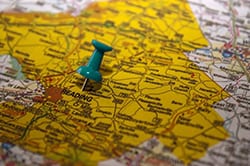 Get to Know Greater Reading!
Whether you're looking to relocate with your company or just visiting, Greater Reading has something for the whole family!
With its rich history, abundant natural beauty and cultural vitality, Greater Reading can be your next stop. Our residents enjoy picturesque hiking trails and parks, nationally ranked bike trails, championship minor league sports teams, museums, street fairs and much, much more. We invite you to explore Greater Reading and see why it truly is like no other place.
Greater Reading Offers Everything For Business Growth

Arts & Entertainment
Greater Reading has a variety of main street programs, supporting small businesses.
Education
Greater Reading is home to many distinguished higher education and vocational/technical institutions that work closely with our business community to support entrepreneurship, workforce training, research, and leadership. These include:
In Greater Reading, there are 18 public K-12 school districts – some of which have been ranked as top public schools in Pennsylvania.
Wyomissing Area School District – ranked #17 in Pennsylvania
Wilson School District – ranked #47 in Pennsylvania
In addition, there are a variety of highly ranked private schools within an hour drive of Greater Reading:
The Hill School – Ranked #5 in Pennsylvania
The Westtown School – Ranked #12 in Pennsylvania
Lancaster Country Day School – Ranked #33 in Pennsylvania
For a full list of public and private schools in Greater Reading, visit BCIU.
Housing
The average household expenditure in Berks County is $55,335
71% of households own their homes compared to 65% homeowners in the nation
Recreation
Did you know Greater Reading has two championship minor league sports teams? The Fightin' Phils baseball team and the Reading Royals Ice Hockey team call Greater Reading home. Catch a game after work or buy season passes and enjoy the competition all season long!
In addition, Greater Reading boasts many hiking trails and parks! Most recently, our community's biking trails were recognized as Bronze Level by the International Mountain Biking Association. You'll also find prestigious golf courses and recreation facilities all over.
Check out what's happening in Greater Reading, PA
At GRCA, we're passionate about the community we call home. To learn more, contact us today!