Greater Reading Chamber Alliance resources allow us to offer a complete picture of our community in terms of demographics, industry, education, trends, and more. Below you'll find a glimpse of everything Greater Reading has to offer—where we've been, where we are, and where we're headed.
Greater Reading Quick Facts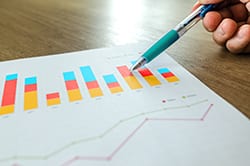 100 million within an overnight's drive
Population: 414,812
20.0% of the Greater Reading population is of Hispanic or Latino origin
Median household income: $55,936
Median price for a single family home: $168,200
5 institutions of higher learning
Nearly 400 companies are headquartered in Greater Reading
Home to 189 international companies, employing over 9,000 people in Greater Reading
Reading, PA comes in at #6 in the State of PA for the number of Manufacturing Jobs (30,100 jobs)
Reading, PA identified as an emerging epicenter for batteries by Wired Magazine
Reading, PA ranked among the best performing cities of 2011 biggest gainers by the Milken Institute
Unemployment Rate is 4.6% ( January 2020)
Movoto Real Estate Blog: Reading, PA ranked in "10 Most Exciting Places in Pennsylvania"
Ranked 7th in the Nation for Best Cities to Manufacture in – Kempler Industries, 2019
State of Pennsylvania Quick Facts
Located in the United States Mid-Atlantic, East Coast
Population: 12,742,227
CNBC ranked Pennsylvania as 5th in the nation for Access to Capital in 2017
CNBC ranked Pennsylvania 10th in the nation for our technology, innovation, and education
Manufacturing generates 12% of the Gross State Product (GSP)
Over 6.3 million highly-skilled and educated workers in the third largest number of colleges and universities in the nation
Are you looking for more detailed information about our region? Just ask.