The Berks Family Business Alliance (Berks FBA), a special program of the Greater Reading Chamber Alliance (GRCA), is a leading resource in Berks County serving family owned and closely held businesses of all sizes. There are no fees for membership — our programming model is low cost or no cost thanks to our generous sponsors and the vast resources available through GRCA.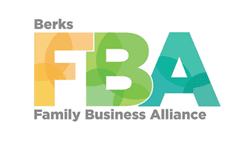 Berks FBA provides diverse programming and numerous interactive opportunities to local businesses. In addition to a full slate of professionally facilitated programs on traditional business topics, we explore the unique challenges that are faced by family business owners and their employees.
Membership is open to all Berks County family-owned and closely held businesses and their employees! It's very easy to join. Fill out the form below.
Our Mission is to provide resources and support for family And Closely held businesses.
Join Berks Family Business Alliance
FBA Council
Paula Barrett

–

RKL LLC
Daniel Becker

– Kozloff Stoudt Attorneys

Nick Bentley – American Polarizers
Harry Ciavarella – M&T Bank
Maureen Dolan – Dolan Construction
Steve Essig – Paul W. Essig, Inc.
Chester Mosteller – Herbein I Mosteller HR Solutions
Tom Newmaster – FORCEpkg
Karen Norheim – American Crane & Equipment Co.
Laurie Peer – RKL LLP
Dave Roland – Truist
Don Schalk – Alvernia University
Jay Wagner – The Stevens & Lee Company