The Greater Reading Chamber Alliance (GRCA) serves as the front-line advocate for business and community. We provide a bridge between business, community and government – helping our federal, state and local officials to acknowledge the challenges businesses face, while providing business-friendly solutions to regulatory, legislative and workforce issues. Through lobbying, testifying, developing key relationships, grassroots activities, tracking bills and regulation, we promote a Pro-Business Policy Agenda. GRCA will continue to work with our members and community to keep everyone engaged in the process to build our healthy, competitive business community.
Pro-Business Policy Agenda
We evaluate member priorities through various interactive initiatives and surveys. Member input is used to establish the Chamber's Pro-Business Policy Agenda developed by the Council along with the Standing Issues Committees and approved by the Chamber Board. We collaborate with other organizations/groups that are engaged in similar priorities, so we can align and speak with one voice and effectively use available resources.
Business & Community Advocacy Council (BCAC)
GRCA members have the ability to participate on the Business & Community Advocacy Council that meets on a regular basis and include special Issues Task Forces along with community and alliance partners.
Issues Task Forces (established every two years based on policy agenda)
Budgets, Spending & Taxes

Public Pension Reform
Tax Reform
Health Care, Benefits, & Labor Laws
State & Federal Budgets
Business & Community Development

Business Incentives
Smart Growth
Infrastructure & Energy Resource

Broadband Expansion
Balanced and Affordable Energy Policy
Regulations Impacting Business
Transportation

Transportation Infrastructure Policies
Transportation Improvement Projects
Advocacy & Community Leadership Series
Provides opportunities throughout the year to attend events and be engaged in moving Greater Reading forward. Our two/three Business & Community Issues & Policy forums provide a dialogue between members and leaders on relevant key topics. Our Commissioner's Update and Local Officials Roundtable encourage dialogue and benchmarking with other communities on best practices in creating more vibrant communities. And our State Legislative Forum and Congressional Conversations create a forum for direct dialogue with our elected officials on issues of importance to business.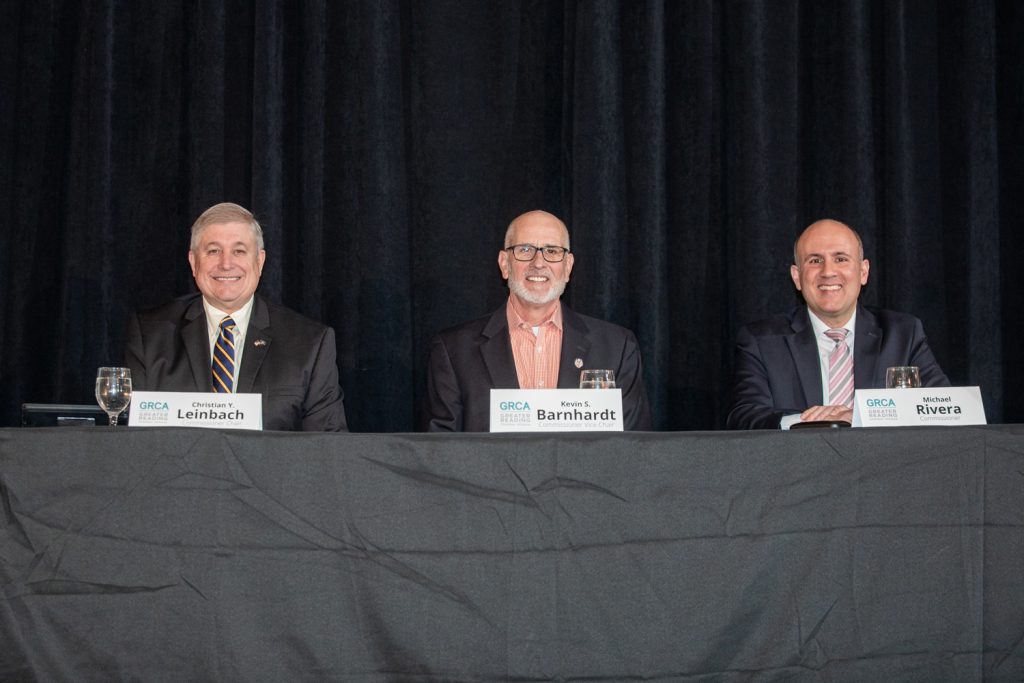 Thank You Partners
Additionally, there are opportunities for our Partners to be engaged and recognized at special events and meetings with our Federal, State and Regional Chambers.
Take Action
Contact Katie Hetherington Cunfer, Director of Government & Community Relations | 610.898.7773