Cowork at the Catalyst on Commerce
Catalyst on Commerce is a professional, high-energy cowork (shared workspace) setting where you can work, form networks, meet with clients, host meetings, and interact with like-minded professionals. It is a place where you can connect, collaborate, and cowork.
Coworking allows you to work for yourself, but not by yourself, Often referred to as 'independent collaboration,' coworking is perfect for entrepreneurs, sole proprietors, professionals who often work from home, for early stage small businesses, as well as for out-of-town businesses looking to establish a local presence.
Several shared workspace settings are available to meet your needs, including shared open workspace with lounge-style tables and seating, cubicles, and private offices. It includes access to WiFi and many other amenities, such as the use of conference rooms and AV equipment. The Catalyst is open from 8 a.m. to 5 p.m. Monday through Friday (except for the holidays GRCA celebrates).
Catalyst Amenities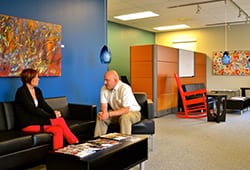 WiFi
Lounge areas
AV equipment in conference rooms
Conference call capabilities
Kitchen area with refrigerator, microwave, and coffee
Bathrooms
Beautiful artwork (available for sale)
Sodas and water (can be purchased for $0.50 per item)
Paper shredding
Two Conference Rooms with table and comfortable seating for 8-12 people; equipped with white board and AV equipment
Lockers (free with one year membership; $5/month for 3- or 6-month memberships)
Mailing address and mail slots (available for one-year membership only)
Handicap accessible
Free parking
Networked color copier/printer (access for fee)
Great people for you to connect, collaborate, and cowork with
Interested in more information or getting started with a Catalyst membership? Contact Mark Dolinski, VP of Professional Development and Training , at 610.898.8386.
Since the Catalyst opened in 2011, I have been utilizing the space as my regional office for the Ben Franklin Technology Partners. Ben Franklin's headquarters is on Lehigh University's campus in Bethlehem, so my location here brings resources directly to Greater Reading. The Catalyst provides an excellent environment tor meetings, as well as comfortable and quiet space to meet all of my business needs. Working at the Catalyst gives me daily exposure to business leaders and economic development partners here in the region. The GRCA staff is extraordinarily supportive, and their efforts have created a hub of synergy at the Catalyst that benefits the Greater Reading business community.