Women2Women,  a special program of the Greater Reading Chamber Alliance (GRCA), is proud to present the 2021 ATHENA award to Virginia Dodge, President of VA Productions.
The ATHENA award is presented to a woman or man, who is honored for attaining professional excellence, community service and for actively assisting women in their achievement of professional excellence. The ATHENA Leadership Model, developed by Athena International, identifies eight distinct attributes that are reflective of women's contributions to leadership.
"Many people have dreams. Fewer can articulate them. Fewer still make the effort to achieve them. Virginia demonstrated an extraordinary amount of initiative and creativity in her formative years. But instead of being a means to an end, this work ethic would become Virginia's greatest hallmark," said Michael Leifer, owner of the Peanut Bar and Restaurant, friend and nominator
"What is business if it isn't personal?" Virginia often says about the friendships she has created with her clients over her almost 30 years in business. Virginia has a business model that is a 'package deal' for her clients and the community. She provides exceptional technical expertise for projects, but does so with an organic and sincere embrace of friendship. Then, instead of just reinvesting in her business, she takes her hard-earned proceeds and sows them into community organizations and those in need, making her a true leader in Berks County.
Leadership & Mentorship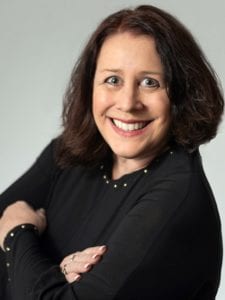 Virginia's belief in mentoring and personal leadership is summed up in inspiring confidence and lives her values. Because she lives her life as a mission, anyone who meets Virginia walks away a better person.
Throughout her professional career, Virginia has provided free workshops for women to improve their skills at PowerPoint and event planning. These sessions provide women with the opportunity to advance their job security, increase their salary and gain additional respect or recognition.
On a more personal level, Virginia has served as a mentor to a young lady who is an aspiring businesswoman. While Virginia was working on her documentary of Trisha Urban and "Extreme Makeover: Home Editon" she met Sofia Woytovich, the (then) 9-year-old daughter of Jeff Woytovich, who had been instrumental in getting "Extreme Makeover" to come to Berks County. Sofia aspired to be a businesswoman.
At their first formal business meeting, Sofia, dressed in a business suit, asked Virginia insightful questions about VA Productions. They discussed some of Sofia's ideas, and brainstormed new business opportunities. Virginia presented Sofia with a briefcase filled with office supplies and even her own set of business cards and their meetings continued.
In 2015, Virginia launched "Princess with a Purpose" a unique mentoring effort that she has shared with young girls whom are residents of Bethany Children's Home. She engages the group in open conversation around being brave, resourceful, honest, caring, a role model and so much more. Virginia leaves each young lady with a mini tiara and framed doctrine that reads, "I Am a Princess and I Have a Purpose on this Earth," to remind them of all they learned and the strength they have inside them to overcome any obstacles they may be faced with. Her greatest desire is that they leave with the belief that they can be anything and everything they want to be.
Community Advocacy & Giving Back
Virginia's community leadership is ever growing. From 2007 as President of the Rotary Club, to Committee & Board membership over the years for Berks Community Health Center, Leadership Berks, Olivet Boys & Girls Club, Bethany Children's Home, John Paul II Center for Special Learning, Girls Scouts of Eastern PA, and more (of which many she still holds presently), to her 2015 founding of Princess with a Purpose, partnership with Bethany Children's Home for their Over the Edge events, Berks Blues Fest volunteer, and Reading Musical Foundation Board of Directors and Committee involvement, the list goes on…and on…and on.
In her spare time, what little there is of it, Virginia has turned a hobby into a conduit for charity. Virginia fashions custom-made jewelry, selling her creations at craft fairs, festivals, non-profit events and gift shops. The profits have contributed to her "Gifts that Give Back Charitable Fund," which was administered through the Berks County Community Foundation, and has raised thousands for children in the Reading area.
Congratulations, Virginia!