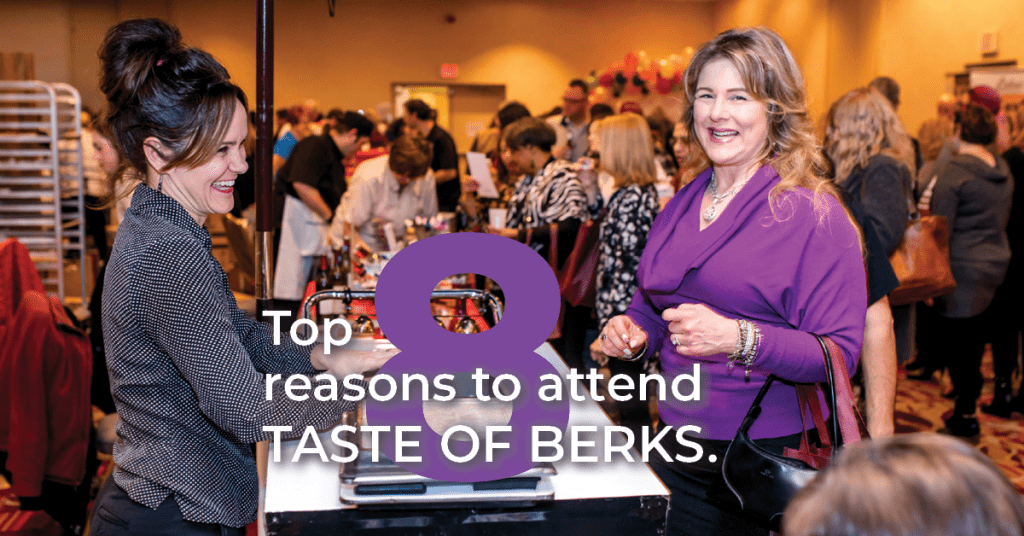 By Rachael Romig, Senior Director of Events & Special Programs
Here are eight great reasons to attend the tastiest event of the year.
Support Local: One of the most important ways to give back and build our community's economy is shopping local! Each year, Small Business Saturday takes place at the end of November, so to make sure you celebrate, purchase something at OUR event on Nov. 14. Most businesses participating in Taste of Berks are a small business, so enjoy what they have to offer, buy something for later and tell your friends!
Samples, Samples, Samples:  With over 30 vendors, you will have all the samples you could want this year — from whoopie pies to charcuterie cups, cold brew coffee to smoothie samples, and butternut squash soup to smoked Polish sausage. Your taste buds will be thanking you later. Stay tuned for the full list of vendors!
Photo Souvenir: Photobooth fun is what it's all about, right? Grab your friends and hop into the booth with props and smile big. Unique Snacks has sponsored the photobooth so each print out photo will include little pretzel icons. Pretzels, props and hold up the peace sign! ✌️
Holiday Shopping: Enjoy our holiday guide curated from all vendors you'll see in person at Taste of Berks. Check off some of your holiday shopping in our new Maker's Market where you'll find unique gifts for others (and yourself). You can also buy bottles of wine, and other items from vendors outside the Market.
Music to Your Ears: Enjoy live music from The Architects Band, a four-piece band and lead singer, who used to perform with Bobby Newton. If you attended the last Networking@Night at the Abe Lincoln, you enjoyed their light background tunes and sultry singing. Now, they are going to amp it up for you at Taste of Berks!
Swag & Giveaways: Get ready to stuff your swag bag courtesy of Meet Greater RDG, a program of GRCA, and the living, breathing representation and brand of the place we call home. Journey through the vendor lines to not only sample their goodies, but also throw their giveaways and extras in your bag and take it home with you. Don't forget to reuse your bag at the grocery store later!
Big Head Portrait: Who doesn't love a silly representation of themselves? Caricatures by Courtney is back for another Taste of Berks, and ready to draw your likeness. Sit down alone or with a friend and strike a pose that can be captured by hand. This is just another goodie to take home with you!
Meet Abe Lincoln: Just kidding. That's a lie, but you can walk around the beautiful Abraham Lincoln Events Ballroom. Newly renovated, the venue is adorned in crystal chandeliers and gold trim everywhere you look. Restored to its original beauty, Shuman Development Group has truly brought the building back to life.
When: Monday, Nov. 14, 5 p.m. to 8 p.m.
Where: The Abraham Lincoln (Abraham Lincoln Events); 100 N 5th Street Hwy, Reading, PA 19601
Click here for more information and tickets.
Interested in sponsoring this event or becoming a food or Maker's Market vendor? Contact Rachael Romig, Senior Director of Events and Special Programs, at RRomig@greaterreading.org or 610.898.7775.