Berks County has seen a large impact of job losses due to COVID-19. Learn what the landscape of Berks County business looks like as we head down the road to recovery. Berks County and state data are provided and paired with explanations.
Weekly Unemployment Compensation Claims
The interactive chart above pulls the most recent information from the Pennsylvania Department of Labor and Industry reports.
Initial Unemployment Claims
As of the end of week for August 15, 2020, Berks saw 800 initial claims. This number is up from the previous week's 620. Over 30% of these claims were in the manufacturing industry with health care in second with only 11.4%. The 25-34 age group continues to be the hardest hit age group at 27.0%. As we move through the 3rd quarter we should see a rebound and a reduction in our unemployment claims.
Continued Unemployment Claims
As of the end of week for August 15, 2020, Berks saw 20,152 continued claims. This is down from the previous week's 22,920 continued claims. This drop is consistent with the trend we have seen. It is most likely due to the lag in claims being filed and the influx of some major layoffs in the Berks County area. Manufacturing accounts for over 21% of these claims followed up by 14% for Health Care and Social Assistance.
Road to Recovery
Berks County's varied employment sectors helped reduce the impact to its economy. While manufacturing had some of the most unemployment claims by industry, many of our other industries had a rate lower than the state average. Supporting local businesses will be key in the local retail sector making a comeback.
Last updated August 21, 2020.
Essential Status of Employment/Establishments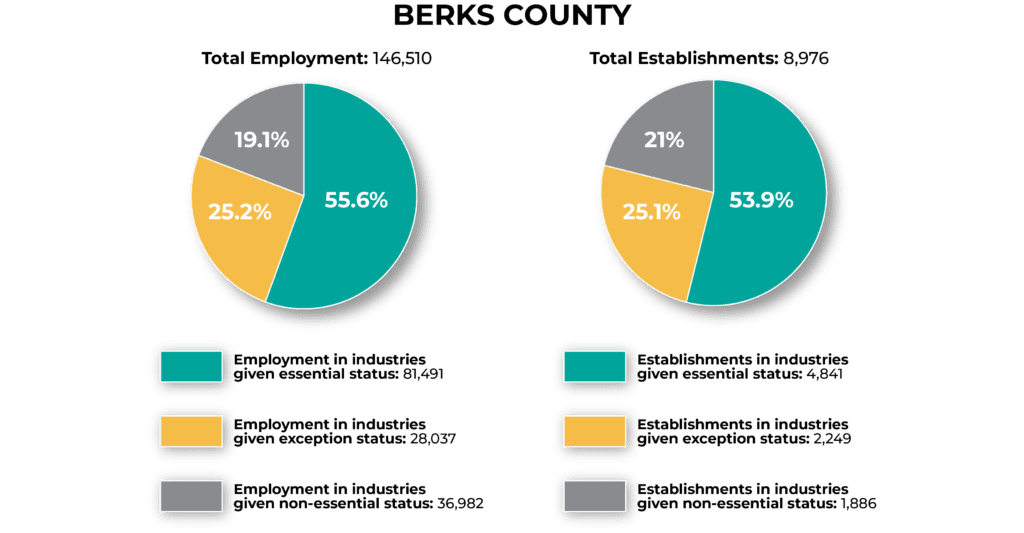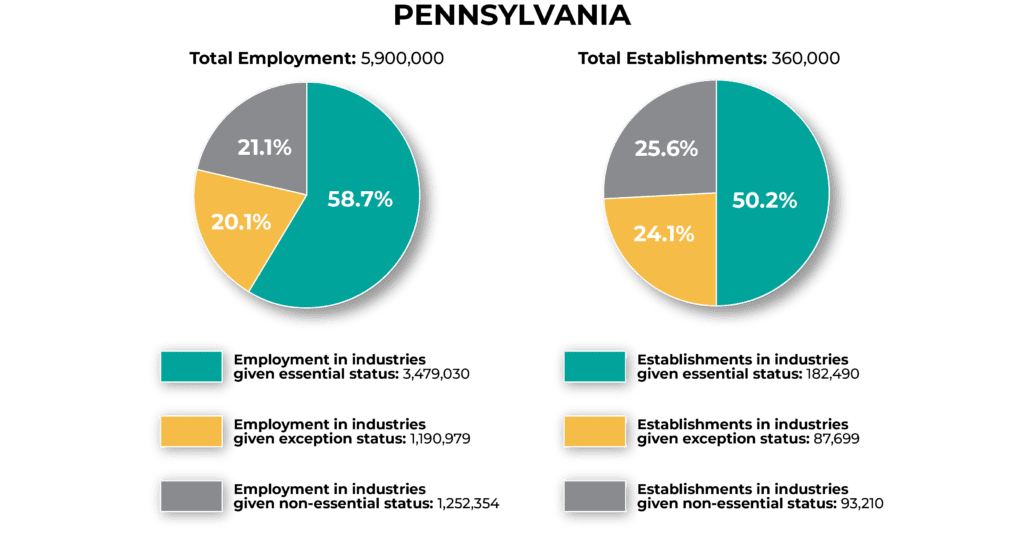 The above pie charts reflect the category in the Life Sustaining Business List document published by Gov. Wolf's Office.
Businesses given essential status could remain open during the shelter- in-place order. (teal)
Businesses given the exemption status were given that status through application of a waiver or an update to the original business list. (yellow)
Industries given a non-essential status remain closed until the shelter-in-place order is lifted or new guidance is given through the governor's office. (gray)
The total number of establishments in Berks County pre-COVID-19 was just under 9,000. With the economic impact of the shutdown and layoffs, we can expect this number to shrink as some businesses will not be able to reopen.
In comparison to Pennsylvania as a whole, Berks County has 8.5% fewer industries given essential status, but 4% greater in industries given exemption status. This difference nets a 4.5% greater rate of closed businesses given non-essential status in Berks County than Pennsylvania. Much of this discrepancy can be attributed to the much larger presence of manufacturing in Berks County. Detailed below, Berks County saw a 33% unemployment rate from the manufacturing sector versus the state's 12.5% rate. This tells us that many more of the businesses given non-essential status were in the manufacturing sector.
Berks County's breakdown of essential status by industry is 21% non-essential, 25.1% given exception status and 53.9% given essential status. Compared to the state of Pennsylvania as a whole, 25.6% of establishments were given non-essential status, 24.1% were given exception status and 50.2% were given essential status. Compared to the state, Berks County had fewer businesses than average given non-essential status, as well as, more given essential status.
Percentage of Job Loss by Industry
Berks County has almost 27,000 unique unemployment claims since the start of the COVID-19 crisis. The industry breakdown shows the areas most heavily impacted. Manufacturing had the largest percentage and is one of the largest industry sectors. For leisure and hospitality, the county fared better than the state average by nearly 9%, or just under 2,000 unemployment claims, but is a smaller industry sector in Berks County.
GRCA will update these numbers as frequently as possible.
Number of Jobs Lost by Industry in Berks County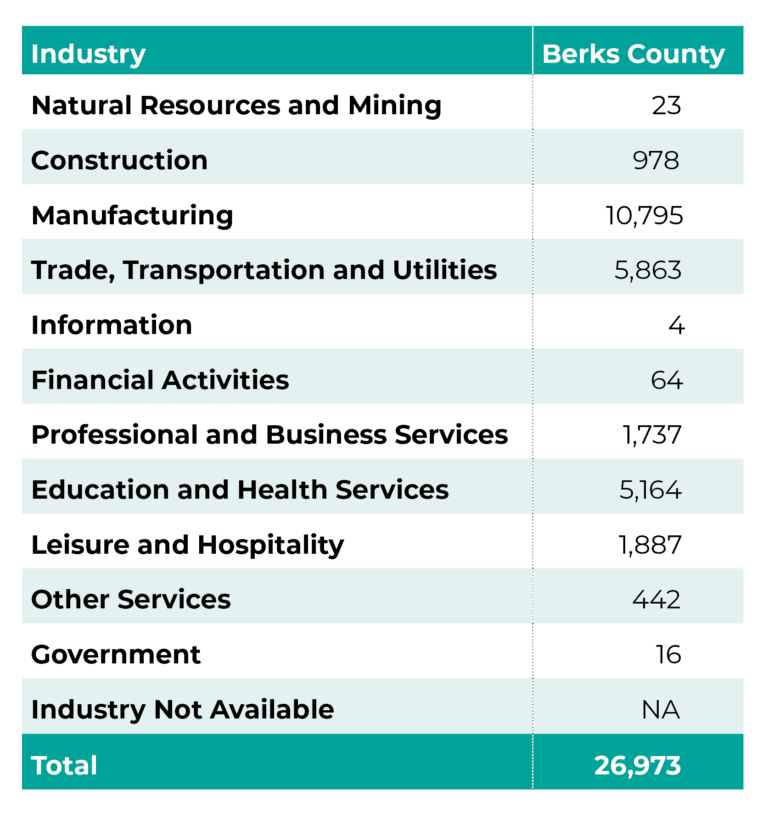 GRCA will be tracking the impact on our employment sectors and updating this data regularly.  With this data, we will assess those industries most impacted and best align our business support services.
Financial Assistance
Research what federal, state and local funding is right for your business.
Programs & Funding

Workplace Readiness
Guidelines, protocols and procedures to prepare your workplace.
Prepare Workplace


Back to Main Recovery Page

Questions? We are here to help.
610-898-7789 | dharris@greaterreading.org