By Aaron Gantz, Executive Director of Downtown Revitalization
Did you know the Greater Reading Chamber Alliance manages the Penn Street Market? In 2018 our organization made a commitment to the continued revitalization of downtown Reading – included in our strategy was the Penn Street Market. The Market is critical in a few ways – it activates the heart of downtown Reading at 5th and Penn Streets on a weekly basis throughout the summer months while also providing access to healthy food options.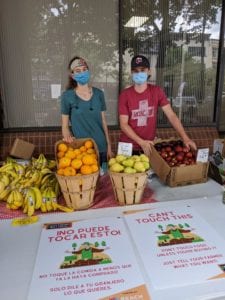 While the Market looks and feels different this year due to COVID-19, the Market team believed it was critical to open and continue the mission to provide fresh, healthy food for the downtown Reading community. To ensure the safety of everyone, there have been operational and procedural changes implemented in accordance with the Center for Disease Control and Prevention as well as those put forth by the Pennsylvania Department of Agriculture.
On Thursday, June 4, the 2020 season kicked-off with two main produce vendors – Blue Mountain Academy Farm and Country Lane Poultry and Produce. Signs are visible and in place to designate specific entry and exit points in both English and Spanish. A new market layout encourages social distancing and minimizes contact with one-way lines in front of vendors and throughout the market area. There will be additional space between customers and food. Vendors will collect and bag all requested items for customers.
Though non-essential programming has been postponed, more vendors including food trucks and restaurants are expected to join the Market in early July as Berks County moves from yellow to green.
Health + Safety Guidelines for Shopping
Wear a mask if you are able to wear one.
Shop Solo to reduce the number of people at the market. If possible, please send one shopper per household. If you have a friend or neighbor who is in a more vulnerable population (such as elderly, those with respiratory problems, etc.), consider offering to pick up groceries for them at the farmers market, so they don't have to come.
Keep Your Distance – Allow at least 6 feet of space between shoppers – check for markers on the ground. Please be patient when waiting in line to shop.
Please do not touch the food until you've purchased it. Tell vendors what you want and they will pack it for you. When purchasing products from vendors, please wait until your bag has been placed on the table. Once the vendor has stepped back you may approach to pay & collect your goods. As always, wash fruits and veggies when you return home.
Wash Your Hands – A handwashing station will be available to the public.
Leave Pets at Home unless you use a service dog, please leave dogs at home.
Visit PennStMarket.org/Plan-Your-Visit for more details and up to date information.
Access to Affordable, Healthy Food
In 2013 a Food Assessment for the City of Reading was conducted to determine the extent of food access and insecurity. The Assessment found that there are fewer grocery store establishments per 100,000 people than the rest of the State and Country. To address access to healthy, fresh foods it is critical to continue to strengthen and promote the farmers' market network in the City of Reading.
Enter the Penn Street Market, where local, healthy, and fresh foods are important pillars of the downtown Reading Market. A central feature of the Penn Street Market has always been weekly SNAP nutrition education programming and demonstrations developed by The Food Trust of Philadelphia – Reading, PA team. While the team is not conducting educational programming at this time, they are still present at the Market with recipes and fun giveaways!
Thanks to the ongoing support from The Friends of Reading Hospital, all shoppers are eligible for Berks Farm Bucks to increase their spending power for fresh fruits vegetables. This is in addition to the matching programs offered at the Market –
Shop with your FMNP checks (WIC + S-FMNP) – every $5 check, receive $4 of Berks Farm Bucks
Shop using your ACCESS card at participating vendors – every $5 spent, receive $2 Berks Farm Bucks
Role in Revitalization
Studies have shown that farmers markets are key drivers of downtown revitalization. They inspire creative energy, promote foot traffic, utilize public space, support local agriculture, encourage walkability and nutrition, provide opportunities for social interactions all while targeting a variety of demographics.
Whew! If that isn't enough according to Lauren Suerth of the Department of Urban and Regional Planning in her recent article Farmers Market Impact. "Farmers markets activate places and foster unique interactions. Oftentimes, they locate in underutilized spaces and they generate a dynamic flow of people into the area and within the place. Residents and tourists are attracted to markets for the ability to source food and goods from local farmers and businesses, but they also fulfill important noneconomic purposes. They are an engaging social setting where people meet over common interests and self-expressions."
Wouldn't it be incredible if there was so much demand of our downtown farmers market that we could transition the program into a permanent, year-round venue or if vendors decide to transition to their own brick and mortar storefront? Local farmers, producers, and makers would have permanent representation in the heart of our downtown Reading community as valued contributors to our ongoing success.
Parking
Parking is FREE for Market patrons at the 4th & Cherry Parking Garage – see the Information Stand for details. Bicycle parking is always free and available at the bike racks at Penn Square. Special thanks to the Reading Parking Authority for their partnership!
When + Where
Every Thursday starting through September 3
10 AM to 2 PM
Penn Street – between 4th and 5th Streets
The Penn Street Market is for everyone – the team loves to bring people together on a weekly basis on beautiful Penn Square (5th and Penn Streets) in the heart of downtown Reading. Check out the Penn Street Market on Facebook or Instagram for regular updates or visit PennStMarket.org for more information.