Please note the Facade Grant is closed.
You may not know that downtown Reading's walkability score is 94/100, making it a "Walker's Paradise," according to walkscore.com. Downtown Reading is also home to several iconic Harry Bertoia sculptures: "Untitled" and "Island Moss" located in the 600 block of Penn Street; "Tulip" is at the Miller Center for the Arts, 4 N Second St., near Reading Area Community College. Coupled with some truly one-of-a-kind historical architecture, the streetscape is a hidden gem.
To further enhance the downtown Reading streetscape, there has been a strategic focus on the physical environment and greening of Penn Street with plant scape plans and identifying buildings for facade improvement investment.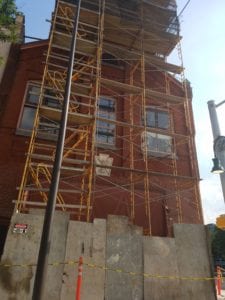 The Downtown Facade Improvement Grant is made possible through private funding from the Berks Alliance and is managed by the Greater Reading Chamber Alliance. The Berks Alliance generously committed to two-years of funding to support façade improvements along the Penn Street Corridor in downtown Reading.
In 2018, six downtown Reading property owners took advantage of nearly $50,000 in matching facade improvement funding – an estimated $170,000+ in total project costs and investment. We are grateful to also be partnered with Sherwin Williams Paint Store (#5074) who agreed to provide additional support to applicants in the form of free and reduced paint.
We are excited to announce that matching funds are available to downtown Reading properties now! Application in link below.
You may be asking – what can the funds be used for?
Improve the external appearance, lighting and security of storefronts
Enhance the attractiveness of Downtown Reading
Preserve and restore historic properties
Encourage economic development and leverage additional private investment
The property must be located in the target area for this program (see target area in the application below)
These very visible improvements and investments help to ensure that downtown Reading provides the vibrant, clean, safe and desirable downtown streetscape where people want to be.
The time is now to create the Reading we wish to work, live, and play in. The work—and the opportunity—is ahead.
Questions about the program or application? Drop Aaron Gantz a line at agantz@greatereading.org
*Please note applications will be accepted and awarded on a rolling and competitive basis until Friday, August 30, 2019.