Dele Olaewe recently opened his printing business on 52 South 6th Street in Reading, Pa. His business focuses on apparel printing, ranging from t-shirts to polos.
Background
How did Dele start and why Reading? His journey beganin Lagos, Nigeria which is known for being the commercial capital of the country. Very early on he knew he wanted to be in the grapgic arts and printing business, so he attended Nigeria's School of Printing & Graphic Arts for his undergrad degree. When he completed his training, he knew that he wanted to pursue his career, but needed additional training that Nigeria did not offer at the time. He explored a few options to continue his education which came down to either Germany or the United States. That's when the opportunity to attend Alabama's A & M University presented itself. He completed his graduate degree and moved to Dallas, Texas to pursue a career in commercial printing and graphic design. "My employer had large companies that they served, such as Hershey & L'Oreal, the parent company of Maybelline. It gave me a lot of experience."
He later pursued another opportunity in Rochester, New York where he took some further training at Rochester Institute of Technology, or R.I.T. That's where he met his future wife Barbara (they have now been married for 26 years!). Barbara moved to New Jersey with him as he continued to work in the industry until 2006 when he moved to Reading, Pennsylvania. Dele and Barbara have three children who are currently 25, 23, and 19. "We fell in love with Reading," said Dele. "Reading has so much opportunity for growth and I wanted to start my business here. I saw a lot of pride but a lack of branding, which is what inspired me to add the Reading pagoda symbol as the "A" in Reading."
Dele originally started his business formally known as T-Shirts by U and all his clothing has the word "Reading" with the pagoda integrated into it. "There are a lot of imitators out there now; I notice that others print and sell similar apparel like mine, but I know it's not from my shop. It's actually flattering that others try to imitate my brand," says Dele. In addition to the Reading-branded items, Dele is also able to produce custom apparel for businesses, sports teams, or any occasion. At his 6th Street location, he is also able to produce single products on demand.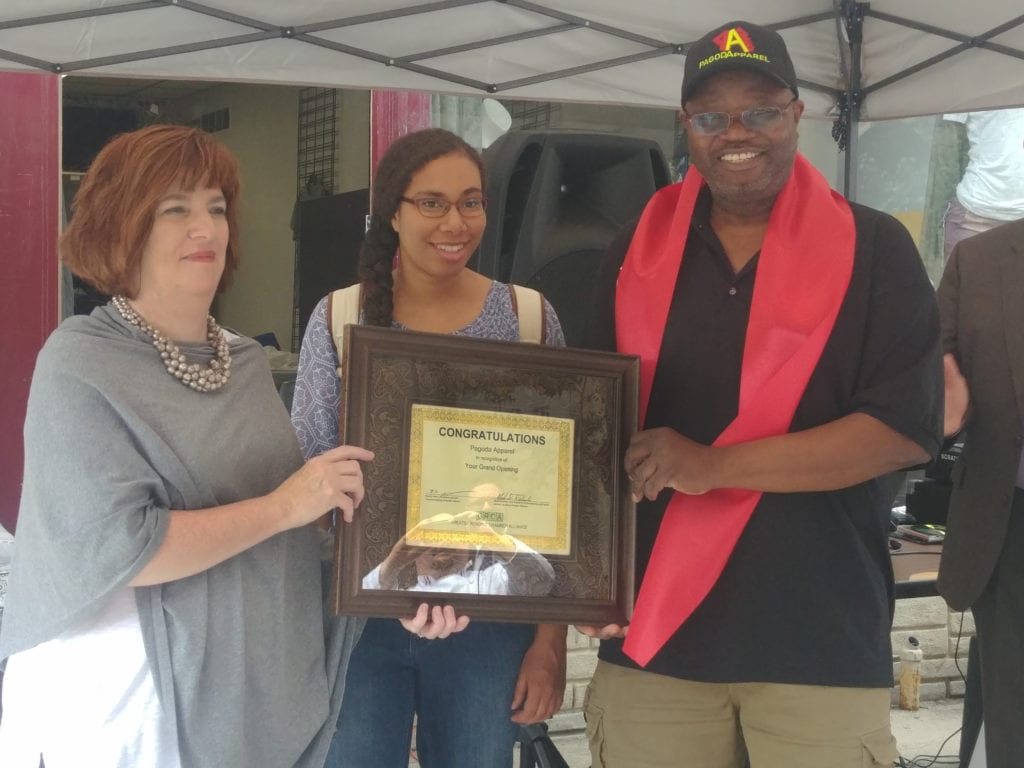 Why Reading?
So, why relocate to Reading? "I love it here. It is such a great place to grow and it has a lot of history here. I believe in Reading, " Dele said. He is in love with the architecture on Penn Street, specifically the 5th and Penn Street buildings. "I want to be part of the revitalization of Reading, and that's why I decided to open my shop downtown. Someday my plans are to expand Pagoda Apparel to Penn Street. I also owe a huge thanks to the Greater Reading Chamber Alliance because they were a large reason why I was able to expand my business. They connected me with their lending program along with their small business support."
Business Support
That business support took several different forms. "When I was first introduced to the Greater Reading Chamber Alliance, I was operating in the back portion of a building on North Fifth Street. The building suited me well for my production needs at the time, but it did not have the retail presence that I desired." Over the course of the next several years, Dele stayed in touch with GRCA, attending many of our networking eventsm and was connected to a variety of resources. These connections turned into business opportunities. For several years, he has made shirts for the Penn Street Market and the Reading Film FEST, which have since been folded into GRCA.
Finally, Dele found a new location that would be perfect for his growing business. "When I found the building on S. 6th Street, I reached out to GRCA to see what options they may have available to help." In partnership with ASSETS of Lancaster, GRCA was able to provide $10,000 loan to assist Dele with his working capital costs in opening the store.
The GRCA has access to a variety of funding programs from the Commonwealth of Pennsylvania that are geared towards helping small businesses like Pagoda Apparel. These loan programs are primarily used for the acquistion of real estate, purchase of machinery and equipment and working captial – all key parts of helping small businesses grow. Whether you're a downtown Reading business or a family farm, the GRCA can assist.
Contact Chris Witmer, the GRCA's Director of Project Development, at CWitmer@GreaterReading.org or 610-898-7794
Originally published in Commerce Quarterly Summer 2018 Issue.