By Katie Johnsen, Events Coordinator
The Dinner is the largest gathering of business leaders in Berks County. We invite you to join us for the 110th Annual Dinner on Tuesday, May 23. The evening will feature keynote speaker, Candace Nelson and a celebration of the community's top growth businesses. Join us as we celebrate with great food, drink and networking. If we have not convinced you yet to join us, check out these top 5 reasons you should attend The Dinner.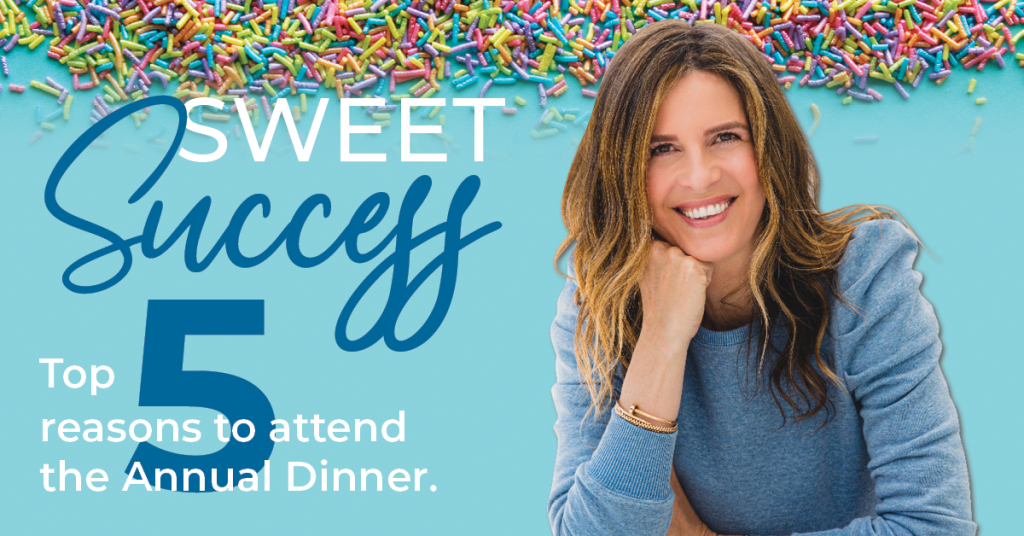 1. Celebrating Success: There's nothing more electrifying than hearing cheers as you see your hard work recognized by your peers. That's what it's like to be in the room as the Business Excellence Awards are being announced—several tables erupting into applause as their company is called and appears in lights across the big screens. Being honored as one of the best of the best of Berks County is deeply validating. Even for those who haven't won this year, it is inspiring to hear the stories of success straight from the leaders who made it happen.
2. Candace Nelson: We're excited to have renowned serial entrepreneur, NYT bestselling author, executive producer, TV personality Candace Nelson. You may know her as the co-founder of Sprinkles—the first cupcake bakery and ATM—or perhaps you've read her best-selling "The Sprinkles Baking Book." It's possible you've seen her name on Hulu's upcoming "Best in Dough" where she is co-creator and executive producer, or on Netflix's "Sugar Rush," or as a judge on more than 100 episodes of Food Network's hit show "Cupcake Wars." She's here to do more than inspire us—she will move us forward with practical and actionable tools you can use to harness your passion into your business.
3. A Night Out: This is your chance to step out from the comfortable-casual, remote-work clothes and go OUT! Pull out that dress from the back of your closet, iron your best Oxford, and take out the good shoes. We will once again be taking over the Santander Arena to allow ample room to dine, socialize and network.
4. Networking: This is THE event of the year to rub elbows and make connections. With the fastest growing businesses in Berks in attendance, you can form relationships, strengthen existing ones or just enjoy renewing old ties with coworkers and friends.
5. The Push to Excel: You enter the Arena dressed to the nines and feeling like best version of yourself. This fuels the confidence to put yourself forward amongst the best business minds in the county. From there, enjoy dinner and drinks as you cheer with your colleagues for the year's greatest success stories. The icing on the (cup)cake is a conversation with Candace Nelson. When you leave, you'll feel more than inspired—you'll have the tools to take the next step to excellence.
The Dinner will be held at the Santander Arena on Tuesday, May 23 from 5 p.m. to 8:30 p.m. Members can attend for $165. The future GRCA member price is $185. Admission includes Candace Nelson's keynote, the presentation of the Business Excellence Awards, the opportunity to network as well as dinner.
We hope to see you there! Click here to purchase your ticket for The Dinner.