By Rachael Romig, Senior Director of Events & Special Programs
The networking event of the summer is quickly approaching! Join us at FirstEnergy Stadium for a unique event that creates an atmosphere of relaxed camaraderie and allows individuals to expand their networks all while enjoying adult beverages and picnic food. In case you need additional convincing to join us, here are five reasons to attend the Greater Reading Chamber Alliance's Annual Picnic.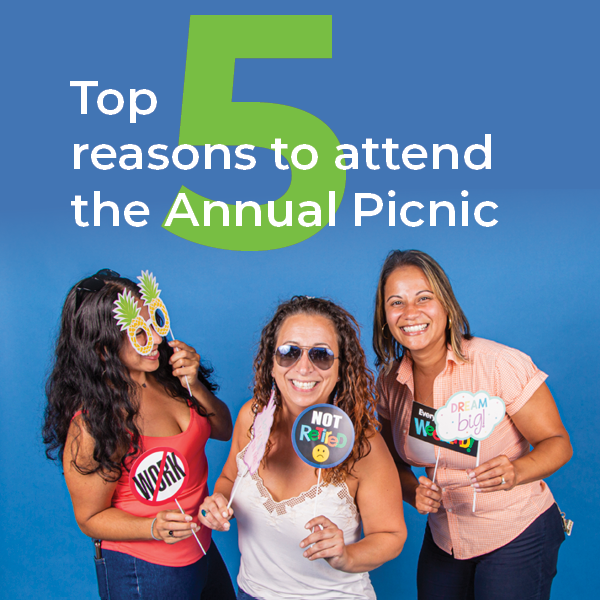 1. Networking with Berks businesses: Have you wanted to meet the movers and shakers of the community? They will be out and about laughing and enjoying themselves at the Annual Picnic. The Picnic is the perfect place to take a seat with a colleague, new contact or meet the marketing team of many companies.
2. Berks Biz Homerun Derby: Each year we have over 15 people who compete for the title of Derby Champion. Derby contestants are made up of our sponsor companies and the field gets heated with glares (nice ones) and loud voices (of positivity). Laughs always ensue because our on-field commentator always has something to say about your performance. Do you think you have what it takes? Consider being a sponsor and come out to hit some balls with us—ALL are welcome!
3. New Cornament: Yep, we went there (cornhole + tournament)! We know that not everyone is able to join the Homerun Derby, so we are bringing another sport to the mix. Only 16 teams will be randomly selected to play, and yes, there will be a trophy awarded at the end of the night. Each team will have 20 minutes to win and when time's up, the team with the highest score wins. This year you have two reasons to bring your competitive and friendly spirit to the Annual Picnic!
4. Swag: If you've been to our events, you've seen the awesome swag that our marketing team has been bringing. From ring lights for your Zoom phone calls, to little planters with wildflowers, to light-up message boards, we have been killing it in the swag game. We can't wait to announce what we will be bringing with us to the Picnic!
5. Summer vibes: Who doesn't love the sun in the sky, hand over brow looking at the outfield of the FirstEnergy Stadium? Beers are flowing and music fills the air. Each year we host one or two local bands and performers who keep the vibe fun. Dance it up with us, lean on the bar to watch or network to build your business!
When: Tuesday, Aug. 22, 4:30 p.m. to 8:30 p.m.
Where: FirstEnergy Stadium, 1900 Centre Ave., Reading
Click here for more information and tickets.
Interested in sponsoring this event and having your brand featured in front of 500 Berks County business professionals? Contact Rachael Romig, Senior Director of Events and Special Programs, at RRomig@greaterreading.org or 610.898.7775.