By Aaron Gantz, Senior Director of Economic Development
According to Naomi Young, Director, Lancaster County EDC's Center for Regional Analysis July 2021 findings — the economy is transitioning out of the pandemic and finding its footing in a new normal. Expect the remainder of the year to have overall strong growth but with continued mixed signals. Businesses and households will need to adjust to temporary supply chain disruptions, discern where price and wage growth is transient, and a labor market finding some stability.
Sectors that performed well through the last 18 months remain on strong growth pathways — namely manufacturing, construction, and professional services. For sectors most adversely impacted by the pandemic it is too soon to determine when they will fully recover. Interviews with business leaders in the Greater Berks region highlight those businesses will be challenged by inflation, supply chain bottlenecks and labor shortages. It is not evident if these headwinds are part of the transition out of the pandemic or more permanent. Regardless, businesses and households remain optimistic.
Berks County (Reading, PA MSA) Demographic Overview
According to recently released population data from the 2020 Census, the City of Reading's population rose by 8% from 88,082 in 2010 to 95,112 in 2020, making it the 4th most populous city in Pennsylvania.
Berks County's population grew at a slower rate, increasing by just over 4% to 428,849 in 2020, maintaining its spot as Pennsylvania's 9th most populous county in Pennsylvania. Nearly every county surrounding Berks (with the exception of Schuylkill who lost population) experienced a higher population growth rate from 2010 to 2020.
The data also confirmed not only is the United States more diverse and more multiracial than ever before, but so is the City of Reading and Berks County — 69% of the City's population identifies as Latino and 18.6% identifies as two or more races. Just over 23% of the County of Berks population identifies as Latino and 9% identifies as two or more races.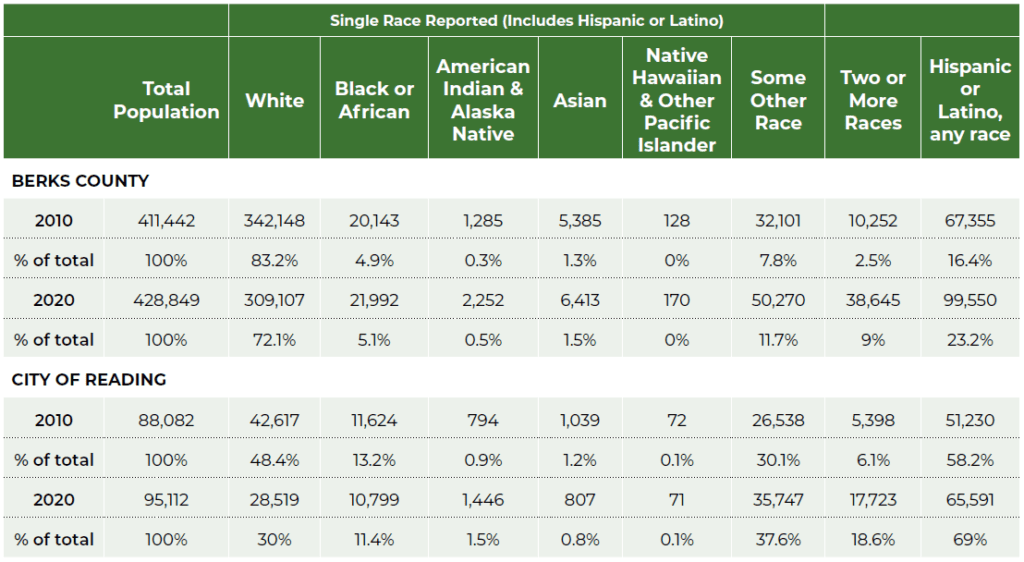 Gross Domestic Product
Gross Domestic Product (GDP) is the total value of goods and services produced by a region. In 2020, nominal GDP in the Berks County (Reading, PA MSA) contracted 3.0%. This follows growth of 2.5% in 2019. As of 2020, total GDP in the Berks County (Reading, PA MSA) was $20,091,009,000.
According to Naomi Young, Director, Lancaster County EDC's Center for Regional Analysis, Economic projections remain strong for the rest of 2021 despite growing concerns over inflation, the labor market and a slowdown in consumer spending. Several factors, related to economic fundamentals rather than pandemic conditions, appear to be fueling the strong outlook. Government stimulus is supporting the economy. Past stimulus buffered business and household liquidity, minimizing debt accumulation typically associated with recessions and government spending is projected to support the economy. Acceleration in the adoption of technology and business operations and strong private investment through the pandemic are expected to positively impact productivity trends.

Manufacturing contributed the largest portion of GDP in 2020, $3,928,657,000. The next-largest contributions came from Real Estate and Rental and Leasing ($3,076,166,000), Health Care and Social Assistance ($2,491,320,000), and Educational Services ($1,241,431,000).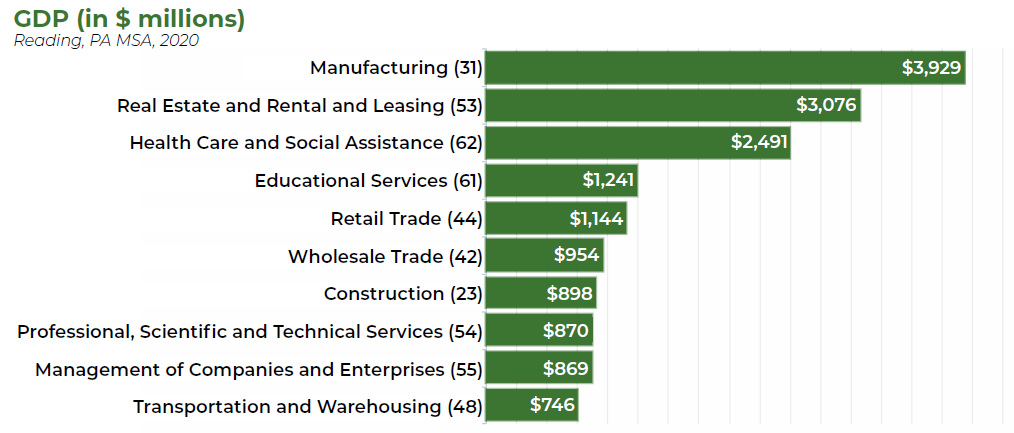 Industry Snapshot
The largest sector in Berks County (Reading, PA MSA) is Health Care and Social Assistance, employing 30,310 workers. The next-largest sectors in the region are Manufacturing (28,751 workers) and Retail Trade (18,054).
High location quotients (LQs) indicate sectors in which a region has high concentrations of employment compared to the national average:
Management of Companies and Enterprises (LQ = 2.08)
Manufacturing (2.04)
Agriculture, Forestry, Fishing and Hunting (1.48)
Sectors in the Berks County (Reading, PA MSA) with the highest average wages per worker are:
Management of Companies and Enterprises ($121,241)
Utilities ($94,459)
Finance and Insurance ($83,451).
Regional sectors with the best job growth (or most moderate job losses) over the last 5 years are:
Health Care and Social Assistance (+1,377 jobs)
Transportation and Warehousing (+1,333)
Management of Companies and Enterprises (+603)
The fastest growing sector in the region is expected to be:
Health Care and Social Assistance (+303 jobs)
Arts, Entertainment and Recreation (+8)
Accommodation and Food Services (+7)
Berks County Top Employers
East Penn Manufacturing Company
Reading Hospital
Amazon.com Services Inc
County of Berks
Reading School District
Carpenter Technology Corporation
Wal-Mart Associates Inc
Penske Truck Leasing Co LP
State Government
Tower Health Medical Group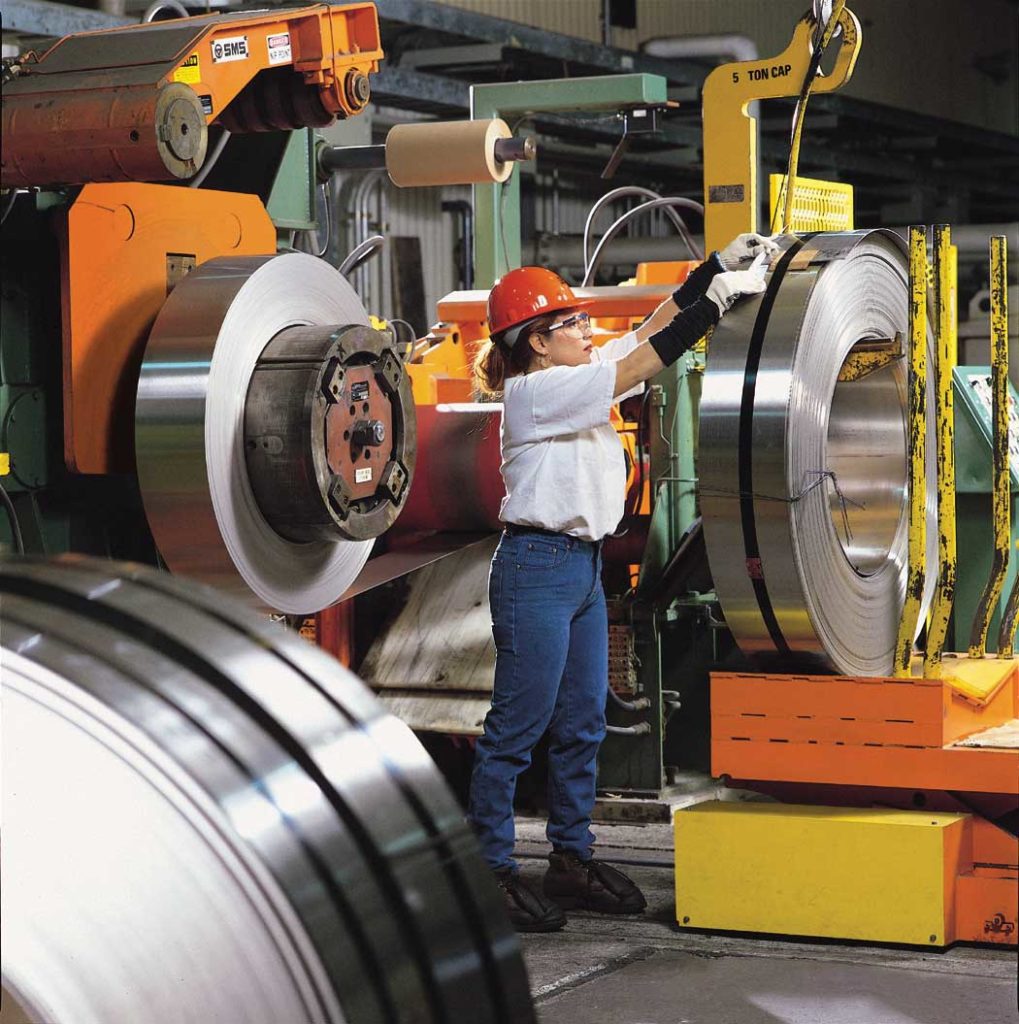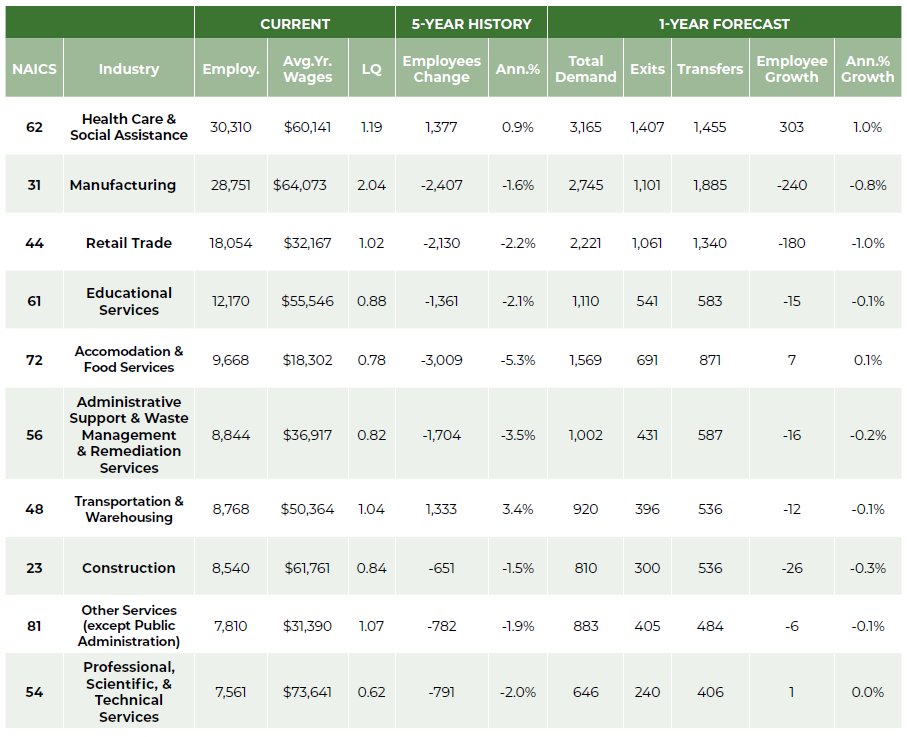 Employment Trends
With the economy fully reopened and the pandemic-driven unemployment compensation benefits being phased out, the labor market is seeking new stability. National data points to the number of job openings growing, despite sustained levels of unemployment and rising wages as evidenced by the number of job postings detailed below.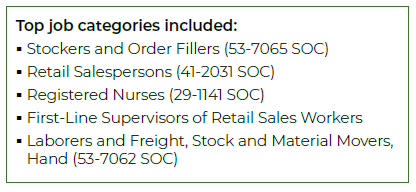 While unemployment remains elevated, it has steadily improved through the year and is expected to keep improving. In June, Berks County's unemployment rate was 6.7%, down from 7.9% in January. One year earlier, in June 2020, the unemployment rate in the Berks County (Reading, PA MSA) was 13.9%.
During Q2 2021 23,864 open jobs were posted. This is a 350% increase when compared to the start of 2020, when approximately 6,500 jobs were posted.
Unemployment
Reading, PA MSA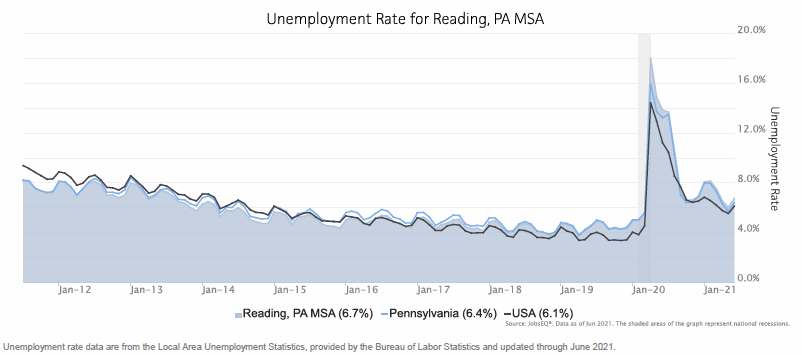 Wage Trends
We have continued to see pandemic related wage increases throughout 2020 and into 2021.
The average worker in the Berks County (Reading, PA MSA) earned annual wages of $55,376 as of Q1 2021. Average annual wages per worker increased 9.4% in the region over the preceding four quarters. For comparison purposes, annual average wages were $63,393 in the nation as of Q1 2021.
Average Annual Wages
Reading, PA MSA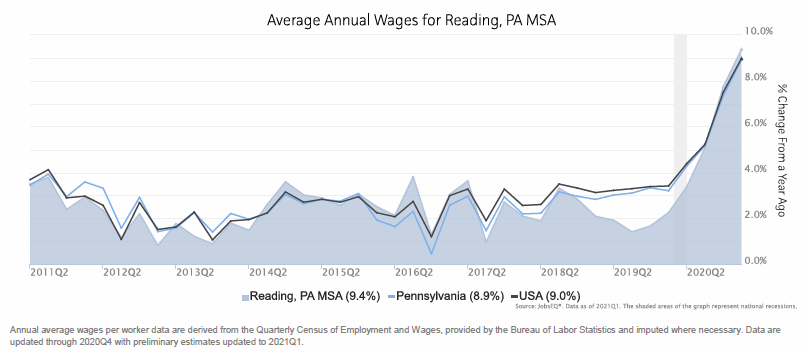 Cost of Living Indicators
The Cost of Living Index (COLI) estimates the relative price levels for consumer goods and services based on locally collected and submitted data. When applied to wages and salaries, the result is a measure of relative purchasing power.
The COLI for Berks is 97.9 — 2.1% lower than the U.S. average. For comparison purposes, the COLI for Berks was 89.5 in 2019.
How do we compare?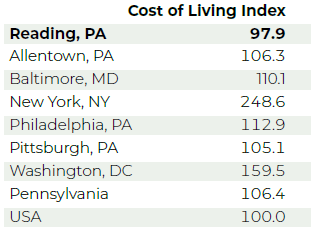 Consumer Spending
Consumer sentiment is an important economic measure because consumer spending accounts for nearly 70% of the GDP. It is often viewed as a leading indicator because it signals how consumers may change their spending in response to their current conditions and future expectations.
Through the pandemic, measures of consumer sentiment have been sensitive to a number of factors not related to personal finances or business conditions. The index score plummeted last year at the start of the pandemic and has been slowly improving but with setbacks along the way.
Beginning in April 2021, U.S. consumer sentiment rose sharply — currently up 20% over January 2020 levels.
Housing
Recently, HomeArea.com named Reading as the number one city in Pennsylvania for buyers. In analyzing the median income level divided by the median home value by county, data shows housing is more affordable in the Greater Reading area than the surrounding counties throughout the southeast region of Pennsylvania. For example, homes in Berks County cost about 3x the median income, while in Bucks County, they cost about 4x the median income.*
The average cost of housing in Reading is less than half of the average of the U.S. average, at $157,600 compared to $315,743. The median sale price for a home in Reading is $206,500 — a 10% increase from this time last year.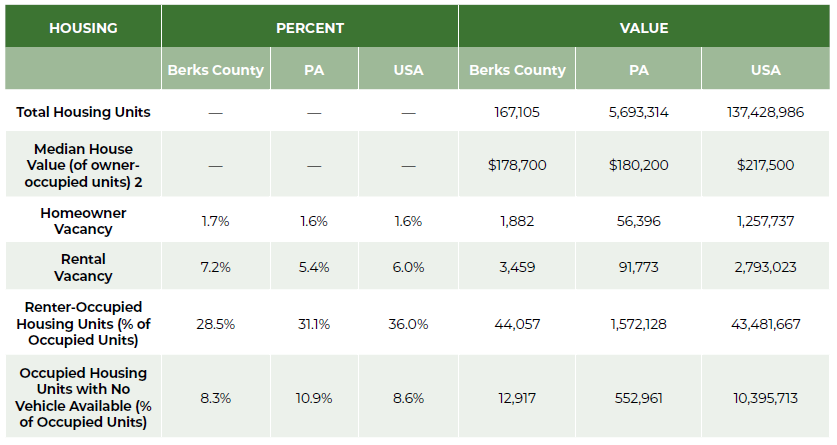 *Information and analysis provided by Brittney Baker Shurr, Association Executive Reading-Berks Association of REALTORS.
FAQ
What is a location quotient?
A location quotient (LQ) is a measurement of concentration in comparison to the nation. An LQ of 1.00 indicates a region has the same concentration of an industry (or occupation) as the nation. An LQ of 2.00 would mean the region has twice the expected employment compared to the nation and an LQ of 0.50 would mean the region has half the expected employment in comparison to the nation.
What is NAICS?
The North American Industry Classification System (NAICS) is used to classify business establishments according to the type of economic activity. The NAICS Code comprises six levels, from the "all industry" level to the 6-digit level. The first two digits define the top-level category, known as the "sector," which is the level examined in this report.
What is SOC?
The Standard Occupational Classification system (SOC) is used to classify workers into occupational categories. All workers are classified into one of over 804 occupations according to their occupational definition. To facilitate classification, occupations are combined to form 22 major groups, 95 minor groups, and 452 occupation groups. Each occupation group includes detailed occupations requiring similar job duties, skills, education, or experience.
About This Report
This report and all data herein were compiled by the Greater Reading Chamber Alliance using a variety of sources — JobsEQ®, a product of Chmura Economics & Analytics, the Reading Berks Association of Realtors and the State of the Economy Report by the Lancaster Economic Development Company's Center for Regional Analysis commissioned by the Berks County Workforce Development Board. The information contained herein was obtained from sources we believe to be reliable. However, we cannot guarantee its accuracy and completeness.