By Rachael Romig, Senior Director of Events & Special Programs
The 4th Annual De Mujer a Mujer Awards brought more than 30 women and men together to celebrate the accomplishments of three impactful women in the Greater Reading area. From magazine editors and creators to nonprofit work, to a young woman making serious change – you could feel the positive energy in the room.
To kick off the evening, Berks Women2Women hosted Ana Amarante-Craig and Beth Bowers, partners from HGSK Law Firm, who shared statistics on women in the workplace, the stereotypes that can arise, and how to overcome them. The audience learned important workplace statistics including the pay gap between men, women and women of color as well as the number of women in C-suite positions compared to male counterparts. Amarante-Craig and Bowers led discussions on what a microaggression looks and sounds like and the importance of mentorship. The speakers also shared their personal stories of being faced with stereotypes and how they combated them. The crowd took part, and nodding heads showed that many of us had also been subject to microaggressions and unfair stereotyping.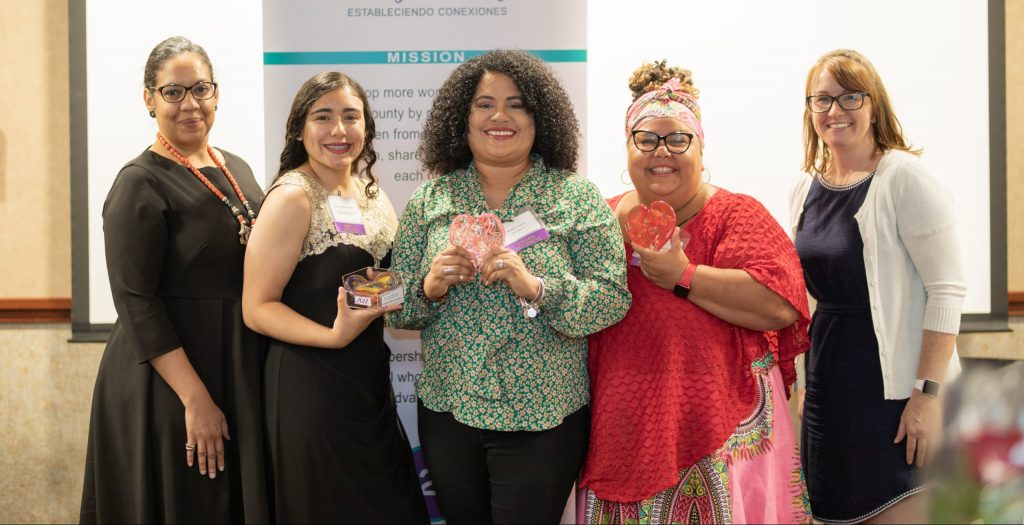 Following this excellent and eye-opening session, we welcomed and celebrated our 2022 Award Recipients. Meet them:
Young Changemaker: EliAnna Bermudez, Oley Valley Senior
Community Impact: Edna Garcia-Dipini, RIZE
Small Business: Rosa Julia Parra, Palo Magazine
EliAnna Bermudez received her Young Changemaker award first and offered comments to the crowd that brought tears to many eyes, a chuckle here and there, but most of all awe. She is truly a young leader who loves her community, gives back to it, and brings others with her. Her passion for equity and justice has helped propel the Stand Together Against Racism (STAR) project from a county-wide initiative to a budding national youth movement. In her role as a STAR leader, Bermudez has led discussions about equity and diversity with her peers in Berks County as well as with students from other YVC groups across the country. She has been involved in discussions with adults as well, including being one of three students chosen to speak at an equity training for staff and board members at another local nonprofit. Most recently, she arranged for USDA Deputy Assistant Secretary for Civil Rights, Monica Rainge, to speak to students at a monthly STAR meeting about her career as an African American, female civil rights attorney.
As Rosa Julia Parra was welcomed to the podium, she laughed in knowledge that she just followed a powerhouse of a young lady. Parra not only has more than 12 years of bringing Palo Magazine to Berks and Reading, but she has helped to bridge the gap between English and Spanish speakers through this time. Palo Magazine is the only bilingual magazine in our area. She also shared with us her experiences in Puerto Rico when she visited to help those in need. In 2018, she helped to collect funds for Hurricane Maria victims. Then in 2020, she helped victims in Puerto Rico after the earthquakes on the Reading Cares Team.
Edna Garcia-Dipini also joined Parra in Puerto Rico on the Reading Cares Team, and it was clear that they both were dedicated to community service. As the founder of RIZE, a youth arts nonprofit, she leads the organization in planning events and programs centered around dealing with children and nonviolence. Most recently, Garcia-Dipini hosted an event during National Youth Violence Prevention Week called BERKS4PEACE, which had over 300 walkers from the City of Reading and surrounding areas come together and walk to the Peace Dove in City Park.
After the presentations and photos, the award recipients and guests enjoyed dinner from Mi Casa Su Casa and mingled together creating new relationships that are sure to last.