By Aaron Gantz, Senior Director, Economic Development
Get ready to celebrate the holiday season across Greater Reading! From exciting events to unique gift shopping, we've got your winter wonderland plans covered. Discover the joy of shopping locally with the Berks County Local Food Map for a farm-to-table holiday experience that's truly special.
Reading Holiday Parade | Saturday, Nov. 18, 10 a.m.
The 2023 City of Reading Holiday Parade has a rich history of delighting residents and visitors alike. The parade is set to feature delightful floats, lively marching bands, talented dance groups, and showcases from local businesses and organizations. The highlight of the event will be the appearance of Santa Claus! Read more about the parade on Berks Weekly>
Taste of Berks | Monday, Nov. 20, 5 p.m. to 8 p.m. | Berkshire Mall
At the Greater Reading Chamber Alliance's (GRCA) Taste of Berks, attendees can expect 30+ vendors offering samples of food and drink from across Berks County. Enjoy the Maker's Market—the perfect place to purchase gifts for the holidays from local makers. Shop all Berkshire Mall stores, including Boscov's, to cross everything off your holiday list!
All registered attendees will receive a wristband to sample all food & drink. A Beer & Wine Garden will be open for alcoholic beverages, but your ID showing 21+ is required to enter. Ticketed Event – Details here.
Celebrate Small Business Saturday, Nov. 25
Kutztown
Small Business Saturday will mark the official kickoff to the holiday season. Participate in the fun activities scheduled for the day—vote in the decorating contest, visit Santa at the Strand, join in a holiday scavenger hunt, donate pet food to the Friend Inc. Pet Pantry, visit the Kutztown Community Partnership office for a silent auction to benefit the Strand renovation project and stop by the pop-up artist show and sale.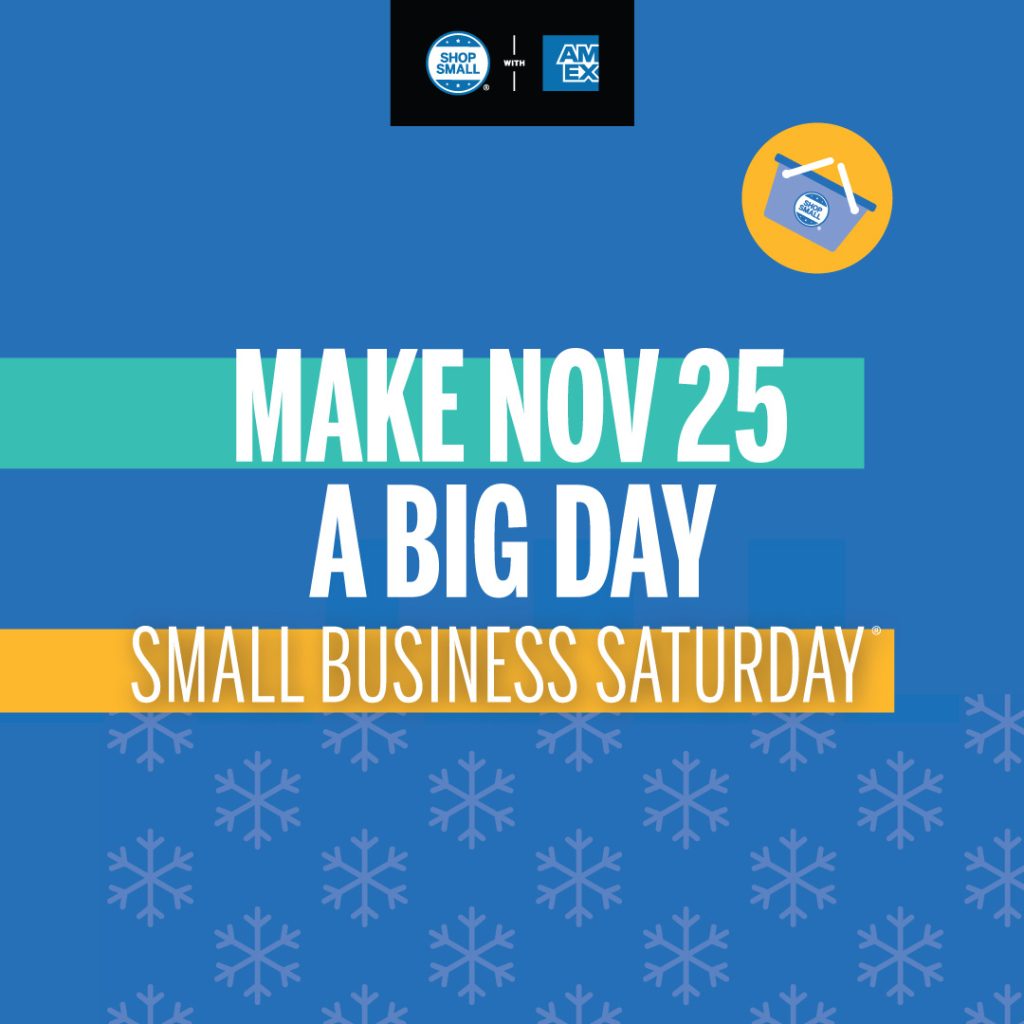 Hamburg
Shoppers can grab a passport, and as they visit each participating business, they'll receive stamps on their passport. When the day's shopping is done, the passports will be collected, and a few lucky shoppers can win beautifully curated gift baskets filled with generous contributions from local businesses. It's an engaging way to explore Hamburg's small business scene and celebrate the community.
West Reading
Explore West Reading's vibrant small businesses—you'll receive a complimentary shopping bag, making it easy to carry home your special finds. Many businesses will be offering specials and making your shopping experience extra special. While you shop, enjoy the sounds of the season with a DJ setting the perfect mood along Penn Avenue.
Check out all of the businesses in West Reading>
Boyertown
To celebrate Small Business Saturday, Building a Better Boyertown is working closely with its local shops to share their exciting holiday specials and events. Get ready for a day filled with shopping, savings and seasonal cheer in Boyertown! Make sure you check out the new mural "Better Bear" mural.
Check out local businesses in Boyertown>
Downtown Reading
Experience holiday magic in Downtown Reading! Marvel at the enchanting Christmas tree, savor a delightful dining experience, raise a toast to the holiday season, and don't forget to secure your tickets for a show or Royals game at the Santander Arena box office—making it a festive celebration for all!
Lace up your skates! Winter Wonderland is back in Downtown Reading. Free ice skating and FREE skate rental has returned at the Santander Arena. Don't miss out—registration required. Click here for all the dates and times: https://tinyurl.com/FreeIceSkate23
Seasonal winter events throughout December
Saturday, Dec. 2
Boyertown – Chillin' on Main | 11 a.m. to 4 p.m.
Visitors of all ages can enjoy an enchanting stroll down Philadelphia Avenue and stop by some of the festively decorated shops and unique vendors to find that perfect gift. Local businesses and non-profits will be offering a variety of games, crafts and activities for children and their families to enjoy. Keep your eye out for the big guy in red! Santa and Mrs. Claus will happily pose for photographs with their adoring fans! Event details>
Downtown Reading – Handcrafted Holiday Market | GoggleWorks Center for the Arts | 10 a.m. to 6 p.m.
This one-day pop-up shop is centered around artists and makers selling high-quality handmade gifts for the holiday season. Handcrafted Holiday Market will also feature:
Hands-on holiday workshops in a variety of studio art forms
Live demonstrations from renowned artists
Holiday-themed interactives like handmade wreath-making and Christmas ornaments
Kids' programs and family activities
Live musical performances
Pop-up restaurant
Handcrafted Holiday Movie Screenings at the Albert & Eunice Boscov Theatre
The event will be a pay what you wish admission fee. Event Details>
Winter Concert at Alvernia University | 3 p.m. to 6 p.m.
A Winter Concert featuring the Alvernia Chorus and Dance Ensembles will take place in Francis Hall Theatre. It is free to all members of the community.
Kutztown
"Christmas on the Farm" – experience the enchanting charm of a holiday celebration in a rustic setting. Enjoy a Pennsylvania Dutch Christmas, featuring visits from the Belsnickel, traditional music, kids' activities, folklife demonstrations, and seasonal activities. This event is free to the public, and fun for the whole family.  Visit the PA German Cultural Heritage Center, 22 Luckenbill Road, Kutztown.
University Students Holiday Pop-Up Market – A Showcase of Student Talent | 6 p.m.
Shop before the show! Located in front of Schaeffer Auditorium (outside weather permitting). Students from the Clay Club, Textile Club, Photography Club, Print Club and Letterpress will be showcasing their amazing artwork and handcrafted gifts. Find one-of-a-kind presents while supporting the talents of local students.
Kutztown University Schaeffer Auditorium | Craig Thatcher's "Rockin' Holiday Show" – Get Ready to Rock the Season | 7:30 p.m.
Get ready to rock the holiday season as Craig Thatcher, Nyk Van Wyk, Regina Sayles, Craig & Pat Kastelnik, Joel Shimer, Chico Huff, and Billy Wear take state for this "Rockin' Holiday Show." Enjoy a night of holiday music that will have you dancing your way into the festive spirit. Purchase your tickets>
Sunday, Dec. 3
RACC's Miller Center for the Arts | PA Philharmonic: A Holiday Yuletide | 2:30 p.m.
Celebrate the season with the Pennsylvania Philharmonic as it melds holiday classical with progressive rock. This year's festive flare will feature the Trans Siberian Orchestra's high powered and dynamic classics plus, Delvyn Chase's iconic holiday overture Rocket Sleigh, traditional favorite selections from Tchaikovsky's The Nutcracker, and beloved holiday movie classics like Miracle on 34th Street. Event details>
Ongoing throughout December
Boyertown | Colebrookdale Railroad – 'Twas the Night Before Christmas +
Santa's Polar Bear Express
Colebrookdale Railroad has redesigned its award-winning Christmas experiences with families in mind—including lowered prices, new menu offerings and increased time with Santa!
Kutztown | Allentown and Auburn Railroad – Train Rides with Santa
The holiday fun continues throughout the month of December with Train Rides with Santa. Hop aboard and take a magical journey through the winter wonderland while Santa and Mrs. Claus make a special appearance. It's an experience the whole family will cherish. Purchase tickets>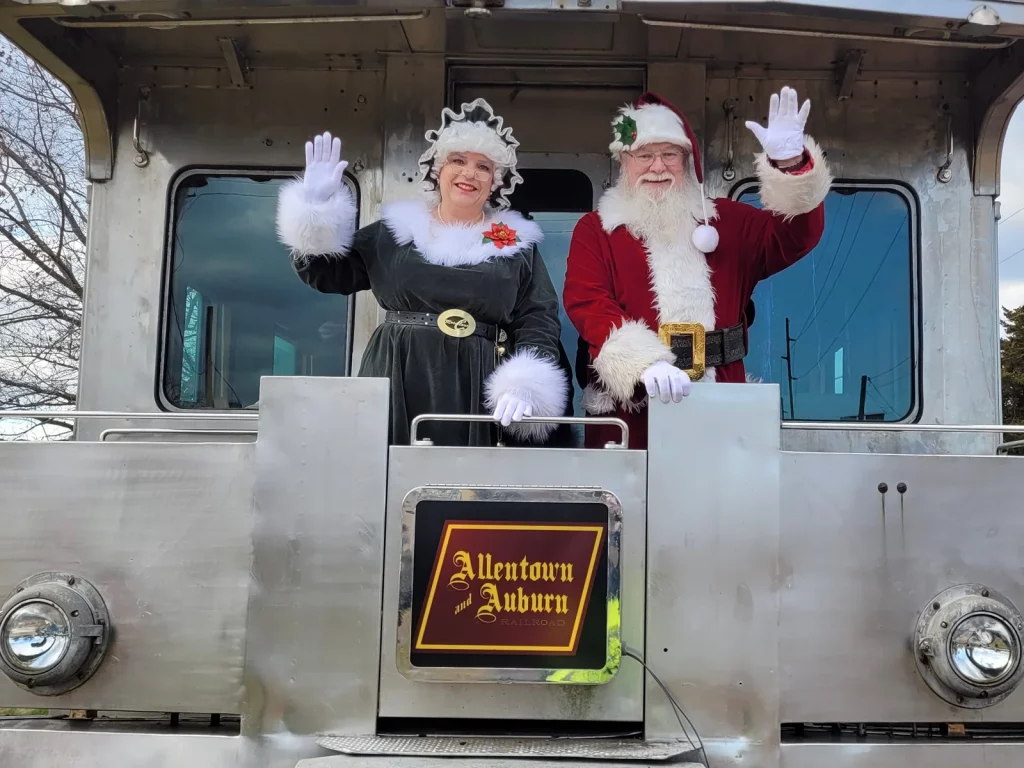 Winter Wonderland in Downtown Reading
Lace up your skates! Winter Wonderland is back in Downtown Reading. Free ice skating and FREE skate rental has returned at the Santander Arena. Don't miss out—registration required. Click here for all the dates and times.
In addition to the vital financial support for our local businesses, there are numerous ways to strengthen their presence and impact in our community:
Connect on social media: Show your love by following, liking, commenting and sharing their posts.
Spread the Word: Leave positive reviews on Google, Yelp, and social media to help others discover these gems.
Stay in the Loop: Join their email lists to be the first to know about new arrivals, promotions and events.
Be Their Biggest Fan: Become a cheerleader by sharing your great finds with friends and family and tagging the businesses in your posts.
Together, we can boost our local businesses and make the holiday season unforgettable. Cheers!